As I keep trying to say in this series of posts, there's something to be said for trying to tell a long-form story in the dangerous world of Weekly Shonen Jump. But that isn't just because of the cancellation cycle and the fickleness of the reader base. No, the other huge risk is whether your long-form story has anywhere to go once it's finished its initial arc. A series with no competent second arc, even if that arc has taken most of a year to get to, is doomed to failure and death, the sophomore slump being as big a hurdle to overcome for manga as it is in any other art form. Sakaki Kenji's Enigma had that exact problem, shooting itself in the foot by not being able to follow up on what was a relatively popular first arc, dying at the mark of a year, unfinished and unloved, save for a special concluding chapter appearing in spin-off anthology "Jump Next" around… right now.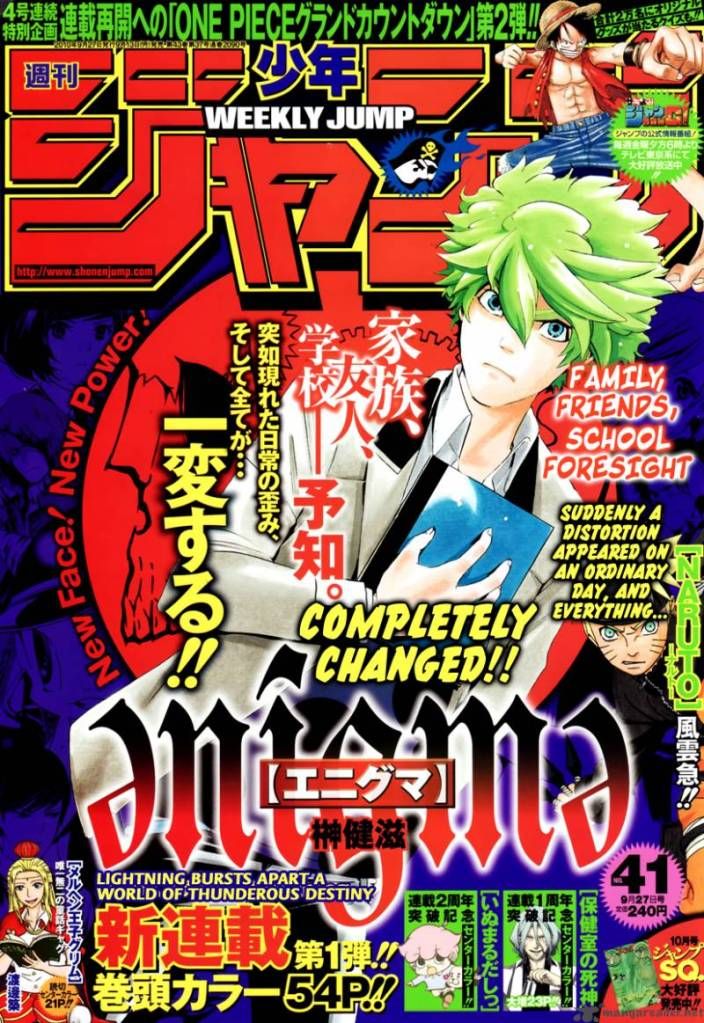 But how did this come to be, and what does it mean when looking at the whole problem of long-form storytelling in Weekly Shonen Jump? Well… perhaps I'm getting ahead of myself. To understand the significance of such a rapid and horrid death spiral, you'd probably do well to know about Enigma and its early successes.
Enigma's initial hook comes out of that promise that, yes, another series like Death Note, or like Demon Detective Nogami Neuro could exist, a series run in a shonen anthology with pretenses of darkness and moral questions beyond the target audience. As Obata and Gamo's BAKUMAN dictates, there's a special market in shonen for these horrendously dark series, and Enigma's story of a group of students trapped by a mysterious entity in a dark and twisted version of their school tapped that vein magnificently, with a simple structure that developed each character and their special ability one by one as the students completed challenges for their escape codes, a task that must be completed before they are consumed by the darkness within the imitation school, which corrupts all it touches.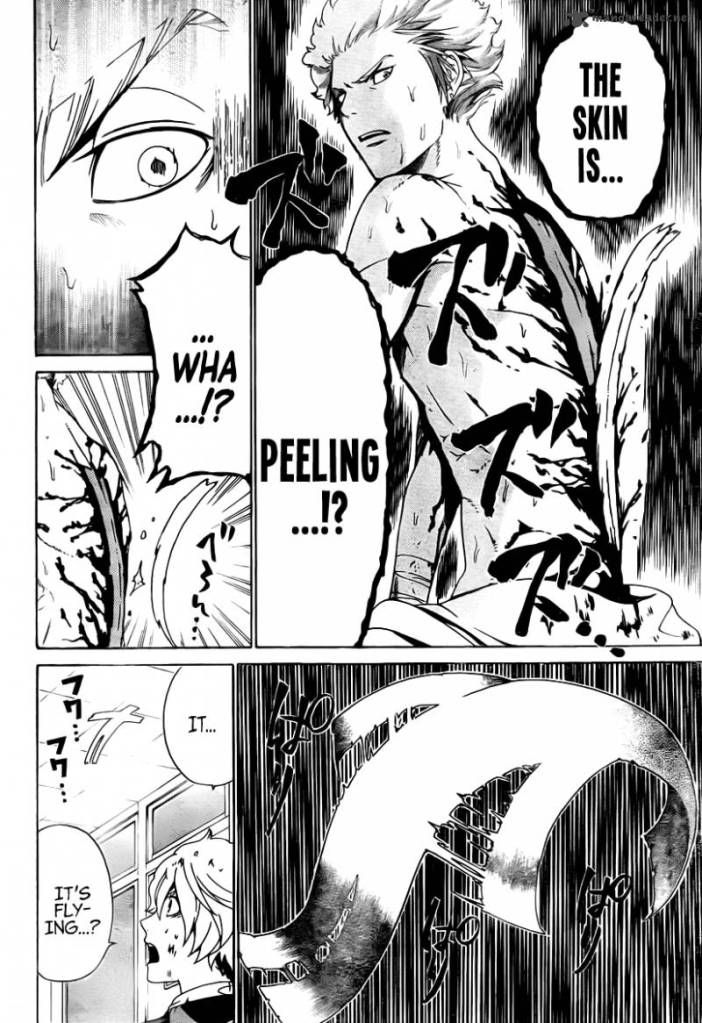 It's a strong way to tell a limited story, stretching it out into the less-accepted long-form on the promise of increasing stakes and dangerous situations, which for the most of that initial arc kept popularity at a high, using cliffhangers and the reveals of each person's ability to provide little boosts within what could and more importantly SHOULD have been a horrendous failure. Because as I've established, in Weekly Shonen Jump there's no reason you should be able to tell a single story for 42 chapters without having everyone who's been following along abandoning you by the halfway mark. Which, to be fair, they did, at least now and then and certainly towards the end, leading the second arc to be tiny, insubstantial, worthless, unpleasant, pointless and awful. It never should have existed.
Which I suppose presents the issue of having a long-form story in Weekly Shonen Jump; When you've told that initial story, can you follow it up with another without it being a failure or a retread? There ARE series that can do this. Death Note followed up it's first story of Kira vs L with Kira vs Mello & Near without it feeling like the same story, and executed it by having the larger story broken up with 'distractions', sub-stories in the greater tale, like the Yotsuba arc towards the end of the Kira vs L half, or with the Mello & Near material, splitting it up by having Light deal with enemies on two fronts, having focus switch between them. It's intelligent trickery to make a storyline feel shorter, and whilst similar to the way Enigma worked with the individual character spotlights, it held up stronger by not just being within the constraints Enigma had, of it being challenge on top of challenge all with the same end result of necessary success and a character's power being used.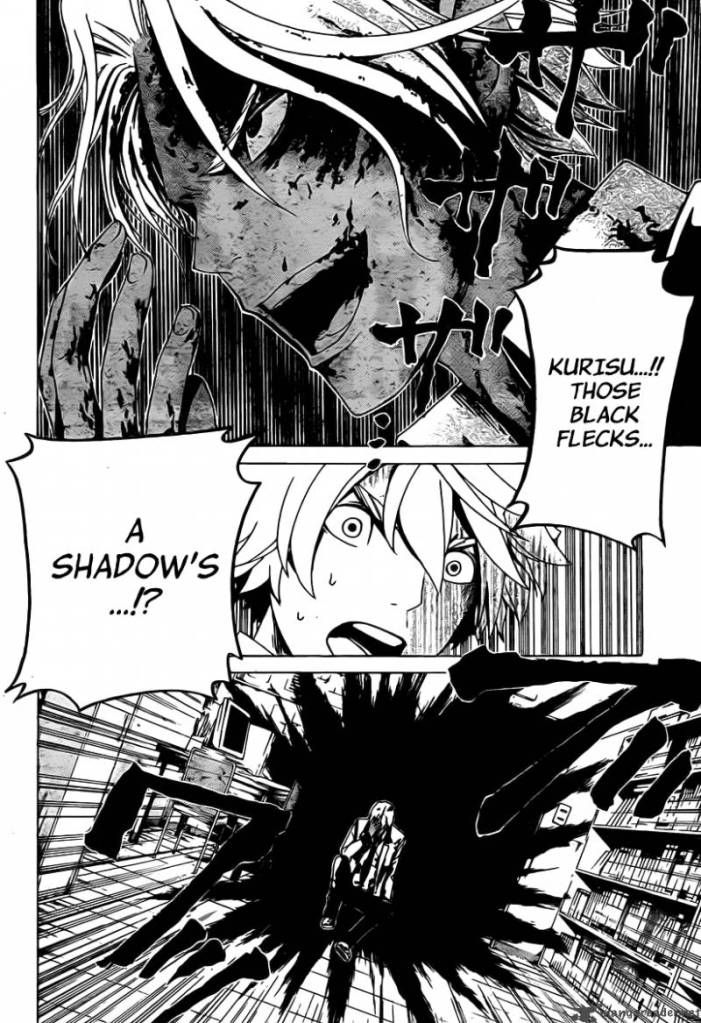 Perhaps it was the second arc shrinking the cast down to just the main character and a few new mystery characters, and keeping the restriction of challenges that ultimately led to its downfall, with the removal of the elements that kept a longer story seeming exciting throughout.
So, Enigma. An exercise in squandering success through a lack of foresight. Ironic when you think about the foresight needed to do a long-form story in the first place.
I think.
To be honest I have no idea what irony is. I blame the internet.
Just a couple more stops left on this journey into one of Weekly Shonen Jump's biggest problems, with looks at the most recent success and an old classic before I move on to talking about something else. Stay tuned.
NEXT: KUROGANE (or: doing it right, annoyingly)